Grill Master
Staff member
Gold Site Supporter
This was a NYTimes recipe that was seriously flawed.
https://cooking.nytimes.com/recipes/1013352-queso-fundido-with-chorizo-jalapeno-and-cilantro
I wish I'd read the reviews before I made the dip.
No way should Monterey Jack be used like this for a dip! Almost as soon as I took it from under the broiler, the cheese started to congeal so solidly that we had a hard time dipping our Tostitos Scoops in it.
The flavor was excellent, and I would make Queso Fundido again ... just using a different recipe. And/or a fondu pot. Or a cast iron pan.
Anyone have a TNT one?
Lee
Ingredients - the chourico is the dry version
Before broiling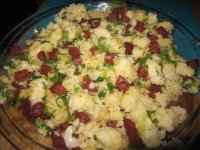 After broiling