The ingredient possibilities are endless with these delicious, nutrition-packed and gluten free egg bites! This is a very forgiving recipe, and when using more or less of any ingredient (or using entirely different ingredients), they are still going to taste great. Asparagus, ham, sausage, other veggies--any combination one likes in an omelet is going to be delicious in these egg bites.
Notes:
I used a silicone muffin "pan" and silicone muffin cups in lieu of using paper muffin cups or having to use oil or butter to grease metal muffin tins. They popped right out without leaving a trace of stuck on food behind!
Also, I had seen some recipes that called for placing a pan of water on a bottom rack to create a steamy environment in the oven for more of a sous vide effect, but I think the silicone cups eliminated the need for this, as the eggs were not browned the slightest on the sides or the bottom.
My recipe is not dairy-free, but one could easily substitute plant-based milk and use a vegan cheese instead (I think it doesn't matter if the cheese melts well or not as long as it's crumbled into small pieces and evenly distributed throughout the mixture), or use no cheese at all. Additionally, the bacon can be omitted for vegetarians (possibly a smoked tofu crumble substitute?).
These egg bites can be made in large batches and then refrigerated for up to 3 days, then reheated for a few minutes in the oven (or 30 seconds in the microwave) for quick breakfasts for on-the-go people. They can even be frozen if you have the room in your freezer. Let the egg bites cool completely, then freeze on a tray before putting them in a freezer container so they don't stick together.
Preparation time:
approximately 20 minutes
Bake time:
approximately 30-35 minutes
Yields 12 egg bites

Ingredients:
6-7 large eggs
1/2 cup half and half or plant-based milk
1/2 tsp garlic powder
1/2 tsp salt
1/4 tsp pepper
1/4 cup finely chopped kale (stem and rib removed)
1/4 cup finely chopped red cabbage
1/4 cup finely chopped mushrooms
1 finely chopped shallot
2 tbsp finely chopped red bell pepper (or spicy pepper if you like heat)
1/2 cup cooked and crumbled streaky bacon (about 4-5 strips)
1/2 cup shredded cheese (I used Gouda and cheddar)
Preparation method:
Whisk eggs and half n half together in a medium-sized bowl along with the salt, pepper, and garlic. Mix in the veggies, bacon, and cheese.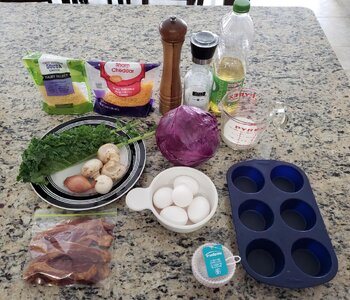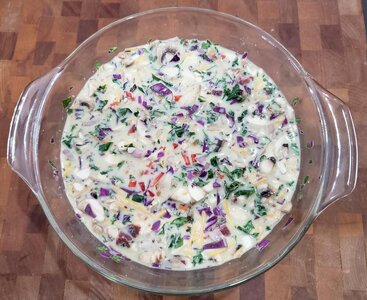 Spoon the mixture into the muffin cups, almost to the top but not quite. Bake at 325F (160-165C) for approximately 30 minutes. If the eggs are not set after this time, cook for another 3-5 minutes. You can touch the egg bites in the center and push down lightly to test for doneness.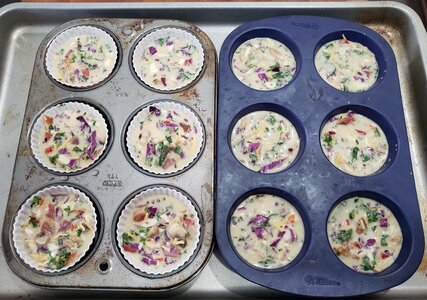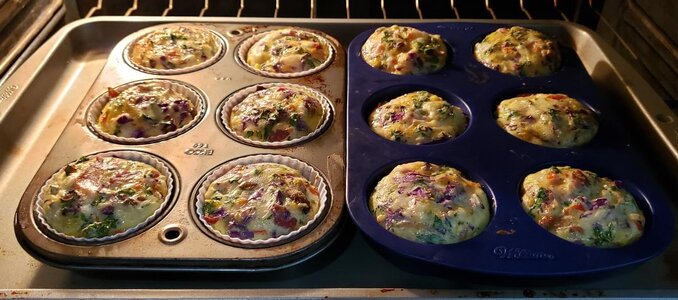 Remove muffins from the oven and allow to cool for 5 minutes before popping them out of the muffin cups.