I love fresh summer herbs, and tarragon is one of my favorites. I made some buns to use for sandwiches and burgers and I added fresh tarragon and thyme to the dough, which gave them a delicate and delightful layer of flavor. They were moist and fluffy inside but hefty enough to hold up the weight of a burger and toppings or deli meat, cheese, or other savory sandwich ingredients.
I tried to find a recipe for tarragon and thyme buns but couldn't find one, so I created my own. This recipe would make an excellent loaf of breaf as well.
Notes: I used a stand mixer to make my dough, but these can totally be kneaded by hand the old-fashioned way! Also, you may need more or less flour depending on the humidity level in your home. I used fresh herbs in my dough but dry will work fine, you will just need a lesser amount (unless you really want a strong, herb-forward flavor).
Yields approximately 12 buns
Ingredients:
2 and 1/4 tsp yeast
1 and 1/3 cup very warm water, divided
2 tsp sugar
1 and 1/2 tsp salt
2 TBSP vegetable oil
1/2 cup buttermilk
4 cups bread flour or all purpose (AP) flour (plus a little more for your work surface when kneading or punching out dough)
2 TBSP tarragon
2 TBSP thyme
3 TBSP melted butter
Add 1/3 cup of very warm water to a glass measuring cup. Stir in yeast and sugar. Let the yeast proof until puffy and doubled in size. Pour yeast into a large bowl (or the mixing bowl for your stand mixer if you have one). Add in salt, vegetable oil, buttermilk, and remaining water. Gradually mix in flour with a stiff spatula or the dough hook on your stand mixer until a dough forms. Mix in fresh herbs. Knead on a floured work surface or in your stand mixer for about 15-20 minutes until the dough is elastic and supple.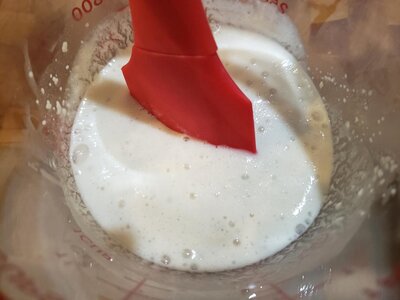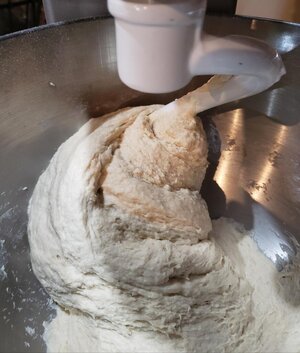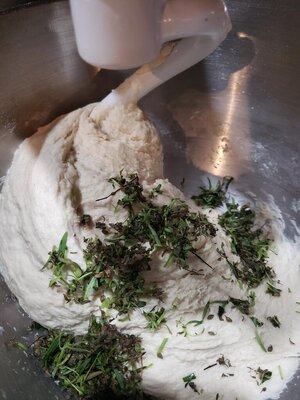 Place dough into an oiled bowl and cover loosely with plastic wrap. Place in a warm, non-drafty location and allow to rise for 30-45 minutes or until doubled in size. Do not allow dough to over-rise! Placed dough on a floured work surface and punch out any air bubbles, then form 12 evenly sized balls. Flatten each ball slightly and place on an oiled cookie sheet. Cover with plastic and place it in the same warm, non-drafty location to rise for an additional 30-45 minutes, until doubled in size.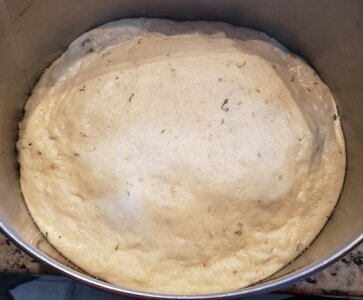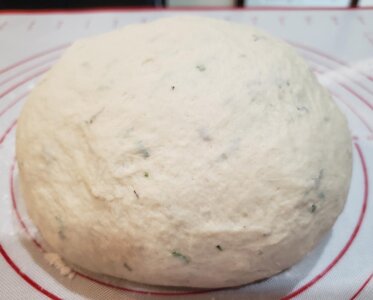 Preheat the oven to 400F. Remove plastic and bake on the middle rack of your oven for about 15 minutes or until golden brown in color. Allow to cool before slicing open to use for burgers or sandwiches. Enjoy!
Last edited: