This is a simple dish that can be used in a number of ways. I chose to use mine in BLTs (bacon, lettuce, tomato sandwich) in lieu of using ripe tomato slices and they were great like this, but these can be enjoyed on their own as an appetizer with a yummy dipping sauce.
Notes: This recipe yielded about 6 fried green tomato slices, enough for two people as a snack or appetizer. Simply double the recipe if you would like more. It's important to fry the tomatoes immediately after the second flour dredge. If you let the breaded tomato slices sit on a plate for longer before cooking they will become soggy. Also, if you are cooking a second batch, dump out the oil and wipe out the pan, then add more oil for the second batch. This prevents any burnt residue and unpleasant flavor attaching to the second batch.
Ingredients:
2 medium sized green tomatoes, sliced into 1/8" strips (ends discarded)
Salt and pepper sprinkle for naked tomatoes
1 cup of AP (all purpose) flour
1/2 tsp sea salt for flour dredge
1/2 tsp ground black pepper
Vegetable oil for frying
Preparation method:
Slice the green tomatoes in approximately 1/8" thick strips and place on a flat pan or plate. Sprinkle lightly on both sides with salt and pepper. Place the flour and additional sea salt/black pepper and mix together well (garlic powder or other seasonings can be added if so desired). Dredge the tomatoes on both sides in the flour mixture and shake off any excess, then place the slices back on the pan or plate. After about 5 minutes, the flour mixture will be a little wet from the juices in the tomato, so run through the flour dredge one more time, shaking off excess.
Pour a small amount of oil (approximately 1/2") in a shallow skillet and turn on medium heat. When the oil begins to simmer, add the fried green tomato slices into the hot oil. Cook on each side for 3-4 minutes (you can lift each slice to check the bottom of each slice to make sure that it is sufficiently browned before flipping over).
Place cooked tomatoes on a plate lined with a paper towel. Eat and enjoy with your favorite dipping sauce or encorporate into a sandwich or other dish.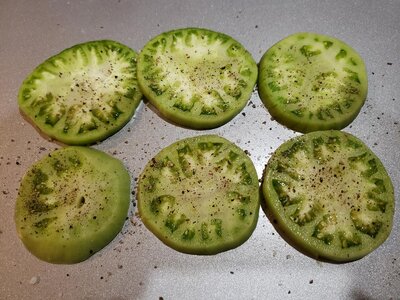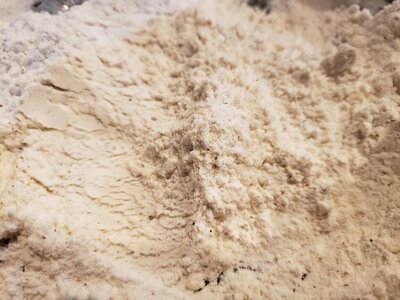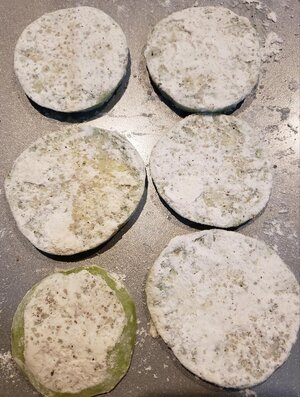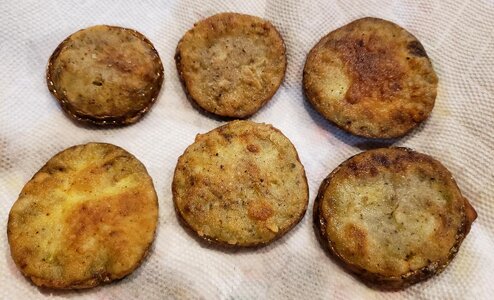 Here's a photo of the fried green tomatoes during the build for the BLT.