Tater tot taco casserole on a cold Wisconsin night, after googling recipes for 2 hours lol
Tator Taco Casserole (Ironman)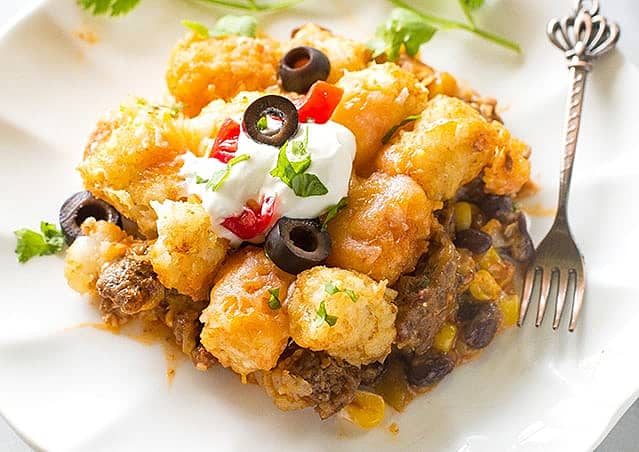 Everyone loves tater tots and everyone loves Mexican food so why not combine the two! This Tater Taco Casserole is a dish that the family will love.

www.oldelpaso.com
INGREDIENT LIST
1 lb ground beef
1 small onion, diced finely
1 clove garlic, minced
1 (4 oz) can Old El Paso™ Chopped Green Chiles
1 (1 oz) package Old El Paso™ taco seasoning mix
1 (15 oz) can black beans, rinsed and drained
1 (12 oz) package frozen corn
3 cups shredded Mexican blend cheese
1 (28 oz) package frozen tater tots
1 (10 oz) can Old El Paso™ Red Enchilada Sauce
Toppings: olives, cilantro, sour cream, tomatoes
GET INGREDIENTS
Powered by Chicory
PREPARATION
Preheat oven to 375° and spray a 9x13 baking dish with cooking spray. For extra crispy tater tots, bake tater tots for about 10 minutes while preparing the beef mixture - otherwise prepare as follows.
In a large skillet, brown the beef and the onion. Add the garlic towards the end of the browning process and cook for 1 minute. Drain.
Add the green chiles, taco seasoning mix, black beans, corn, and 2 cups of the cheese. Stir together to combine. If your skillet isn't big enough you may need to stir it together in a bowl.
Pour mixture into the prepared 9x13 pan. Arrange tater tots on top of the mixture in a single layer.
Pour the enchilada sauce on top of the casserole as evenly as you can.
Bake uncovered for 30-40 minutes or until tater tots are nice and crispy. Sprinkle the remaining 1 cup of cheese on top and place back in the oven for 2-3 minutes or until cheese has melted.
Top with olives, cilantro, sour cream, tomatoes when serving if desired.