Well-known member
Site Supporter
Try THIS mouth-watering recipe. It is guaranteed to please!!
Ultimate Green Bean Casserole.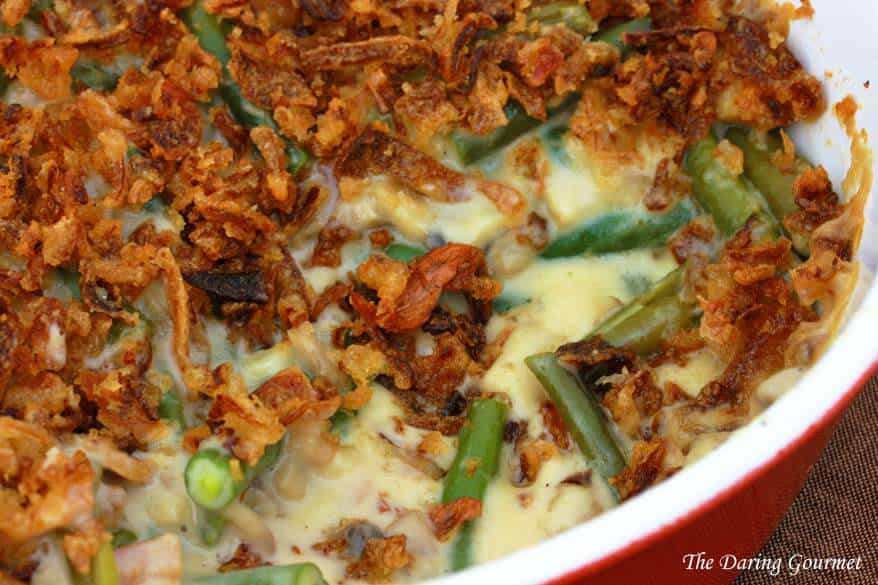 Save
Print
: The Daring Gourmet,
www.daringgourmet.com
Serves: 6
Ingredients
3 slices thick-cut bacon, diced
½ cup finely chopped yellow onion
2 cloves garlic, minced
12 ounces fresh button or cremini mushrooms, chopped
3 tablespoons butter
3 tablespoons all-purpose flour
1 cup half-and-half
1 cup chicken broth
½ cup shredded white cheddar cheese
¾ teaspoon salt
¼ teaspoon freshly ground black pepper
1 pound fresh green beans, trimmed, halved, and blanched (boil 5 minutes, place beans in ice water for a couple of minutes, drain)
1 can French fried onions
Instructions
Preheat the oven to 350 degrees F.
Fry the bacon in a large skillet over medium-high heat until crispy. Add the onions and cook until soft and translucent, about 4-5 minutes. Add the mushrooms and garlic and cook for another 4-5 minutes until the mushrooms are soft. Transfer the mixture to a bowl.
Melt the butter in the same skillet and whisk in the flour. Once combined, continue whisking for another 2 minutes until the mixture has slightly deepened in color. Add the half-and-half and chicken broth while constantly whisking to prevent lumps. Once slightly thickened, add the cheese and whisk until melted and combined.
Next add the mushroom/bacon mixture along with the salt and pepper. Let the sauce simmer for a couple of minutes, then add the green beans. Stir to combine.
Pour the bean mixture into a 9x13 casserole dish and sprinkle the French fried onions all over the top. Bake uncovered for 30 minutes.
3.2.2807