Well-known member
Gold Site Supporter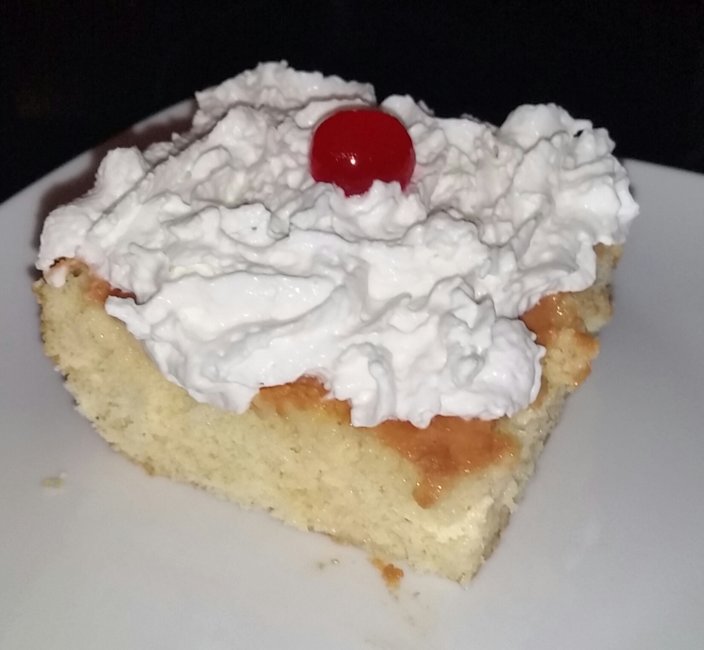 Technically, there are 4 milks in this cake, but the 3 milks comes from the mixture of sweetened condensed milk, evaporated milk, and cream (or half and half) that you pour over the cake after it is baked. There is a debate over where exactly this cake originated, but it is agreed that it came from Latin America. Even though there is a lot of sugar in this cake, it is really not that sweet tasting. It can be eaten without the whipped cream frosting as well, which makes it even less sweet tasting. BTW, since it's only the 2 of us, I halve this recipe and cook it in a 9x9 pan, with the cooking time cut down to 20-25 minutes.
Cake ingredients
6 eggs, separated
2 cups sugar
2 cups flour
3 teaspoons baking powder
1⁄2 cup milk
2 teaspoons vanilla
Milk Sauce Ingredients
One 14-oz sweetened condensed milk
One 12-oz evaporated milk
1 cup heavy cream (or half and half)
Frosting
Something like Reddi-Whip
OR
2 cups heavy cream
1/2 tsp vanilla
3 Tbsp sugar
Grease and flour a 13x9 inch pan, make sure it is at least 2 inches high as this cake is a high riser. Preheat oven to 350 degrees F.
Beat egg whites, slowly adding sugar, until soft peaks form. Mix in egg yolks and beat for 3 minutes. Mix flour and baking powder together. Also, mix milk and vanilla together. Add 1/2 of flour mixture to eggs/sugar, mix well. Add 1/2 of milk/vanilla, mix well. Repeat last 2 steps. Scrape bowl, mix for about 30 more seconds, then pour mixture into pan and level batter. I do that by picking pan up a few inches, then dropping it on the counter a few times. Works well and doesn't mess up an offset spatula that you have to wash
. Bake for 35-40 minutes until cake is golden brown on top and a tester comes out clean.
For milk sauce, mix all 3 ingredients together with a spoon until well blended. When cake comes out of the oven, poke holes with a toothpick or cake tester all over the cake and pour the milk sauce over, spreading with the spoon to cover the entire cake. If the cake is not level, you may have to lightly press down on it with your fingers or the spoon to level it out so the milk mixture spreads evenly. Let cake cool slightly, then refrigerate until totally cool before frosting.
To frost, either use the can of Reddi-Whip, or whip the cream, slowly adding in the sugar until you get medium peaks, add the vanilla and whip just until mixed in, frost. Cake will obviously need to be refrigerated. I like to use the Reddi-Whip as we eat it when it's just the 2 of us since whipped cream can break down if you don't use a stabilizer.
Last edited: