Still trying to get it right.
Site Supporter
Peep's Pastina and Eggs
For 2 servings:
4 oz. Pastina (tiny star shaped pasta)
Sea Salt - to taste
Ground black pepper - to taste
4
TBSP. Grated Romano and parmesan cheeses - or to taste
1 TBSP. Parsley (fresh chopped fine or dry) - to taste
4 Eggs
1 TBSP. Milk
2 TBSP. Butter
Cook Pastina in salted water till tender.
When Pastina is cooked drain almost all the water; leave enough water to just cover the Pastina.
Remove from heat.
In bowl mix all ingredients (except butter); mix well.
Add butter to pot and stir to melt.
Add egg mixture to pot and stir well.
Cook stirring over a medium heat just till eggs set but NOT till it looks like scrambled eggs.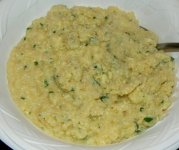 Last edited: