Still trying to get it right.
Site Supporter
Just a thread to deposit odds and ends like a catch all draw.
(pssssst if you haven't figured it out yet I can be very odd)
I love my grinders!!
Back row of large grinders left to right:
Peppercorn blend grinder (telecherry, Malabar, white, green & pink peppercorns)
Sea salt grinder (white and Himalayan Pink)
My herb and spice blend (Peppercorn blend, Sea salt (Large crystals), Garlic (Dry Minced ), Onion (Dry Flakes), Thyme (Dry Leaves), Rosemary (Dry Leaves), Red pepper flakes. I mix it up in a ball jar and then use to refill my grinder
Red pepper flakes grinder
Small grinders in front row left to right:
Morton's Roasted garlic salt
Trader joe's Everyday seasoning (sea salt, whole mustard seeds, whole coriander, black peppercorns, onion, garlic, paprika, chilli pepper)
Dry oregano
Recycle and reuse!! I toast black and white sesame seeds and keep them in an empty sesame seed shaker bottle on the table ready to be used on my salads.
Some of my favorite tools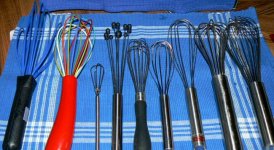 Last edited: