Still trying to get it right.
Site Supporter
This is based on my mom's meat pie. She would
NEVER
give her recipe to anyone not even her sisters. I have recreated a recipe to the best of my ability. By watching over the years and putting down a list of ingredients she always used but she would add other ingredients if say she went to a store that had packaged cold cut ends she would add other meats that looked good (like capicola or hot ham). She never measured or weighed anything. I came up with this recipe.
BUT
mom's was still better. She always made a pastry crust never a bread dough crust which she thought was to heavy. This is the first time I have ever posted the recipe. These are old pictures but I will try to get some new ones tonight. Enjoy
Peep's Italian Easter Meat Pie (Pizzagaina)

FOR 1 Deep Dish Pie:
2 (15 OZ) ricotta
3/4 lb. mozzarella - diced small and tossed with flour
1/4 lb. Romano cheese - grated
1/4 lb. Parmesan cheese - grated
2 lg. hard boiled eggs - cubed
3 lg. raw eggs - beaten
1/2 lb. (thick sliced) Hormel Dilusso Genoa salami - diced small
1/2 lb. (thick sliced) Dak imported ham - diced small
1/2 lb. (thick sliced ) Hormel pepperoni - diced small
Fresh ground black pepper
Sea salt - optional
Pinch dry Oregano - optional
Pastry dough for a 2 crust pies (Pastry dough for 2 crust pie )
Small amount of milk or egg wash - to brush top of pie
Preheat oven to 425°F.
Gently mix all ingredients together; mix well.
Line pie plate with dough.
Fill with meat and cheese mixture.
Top with dough and flute edges.
Make a vent hole in middle of top dough.
Brush top and edges of each pie with milk or egg wash.
Place on sheet pan (to catch drips).
Bake for 1 1/2 hours or until golden brown.
Cool completely on rack then refrigerate.
Pastry dough for 2 crust pie:
1 1/4 cups flour
1/4 cup wheat germ
1/2 tsp. salt
1/2 cup COLD butter flavored shortening or lard (or 1/4 c. COLD butter and 1/4 c. COLD shortening or lard)
Approx. 1/4 cup COLD ICE water
Flour for rolling
Mix dry ingredients together.
Cut in shortening till course and granular.
Work in water a little at a time with fork just till it forms a ball.
Divide in half; place each half in plastic wrap and form flat disk.
Chill slightly.
Roll out dough on floured surface (flour rolling pin to prevent sticking or place between two sheets of waxed or parchment paper).
Note: Mom always added wheat germ to baked goods which adds a nice nutty flavor. You can replace with equal amount of flour.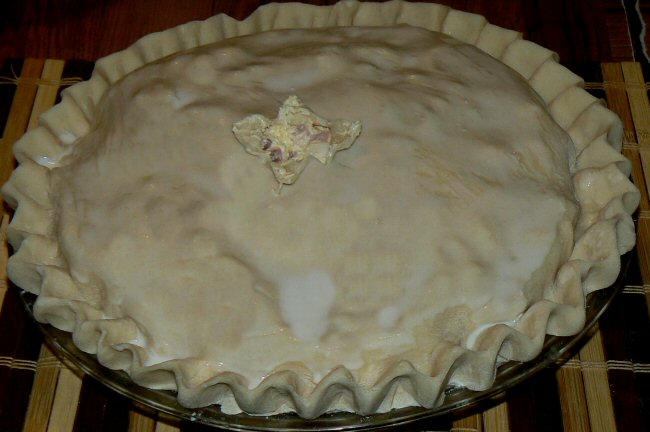 Last edited by a moderator: