Grill Master
Staff member
Gold Site Supporter
This was easy and delicious!
I added a package of sliced fresh mushrooms along with the broccoli. I used 2 pinches of red pepper flakes - coulda used more.
Lee
Mongolian Beef Ramen http://www.delish.com/cooking/recipe-ideas/recipes/a51085/mongolian-beef-ramen-recipe/
Ingredients
·
1 lb. any kind of beef steak, sliced against the grain
·
2 tbsp. corn starch
·
2 tbsp. vegetable oil
·
1 tbsp. sesame oil
·
3 garlic cloves, minced
·
1 tsp. minced ginger
·
1/2 c. soy sauce
·
1/4 c. brown sugar
·
1 c. chicken broth
·
pinch red pepper flakes
·
1 large head broccoli, cut into florets
·
1 carrot, peeled and cut into matchsticks
·
3 package instant ramen, flavor pack discarded
·
3 green onions, thinly sliced
·
Toasted sesame seeds
Directions
1.
Cook ramen noodles according to package instructions. Drain and set aside.
2.
In a large skillet over medium-high heat, heat vegetable oil. Toss beef with corn starch. Cook until crispy, about 2 minutes per side. Transfer to a plate.
3.
Reduce heat to medium-low. Add sesame oil to skillet and stir in garlic and ginger. Cook until fragrant, 1 minute then add soy sauce, brown sugar and chicken broth. Bring mixture to a boil, reduce heat and simmer until the sauce is thickened, 3 to 5 minutes.
4.
Add broccoli and carrots then cover the skillet with a tight-fitting lid and cook until the vegetables are tender, about 5 minutes.
5.
Return beef to skillet and stir until completely coated in sauce. Stir in cooked ramen noodles and green onions. Garnish with toasted sesame seeds.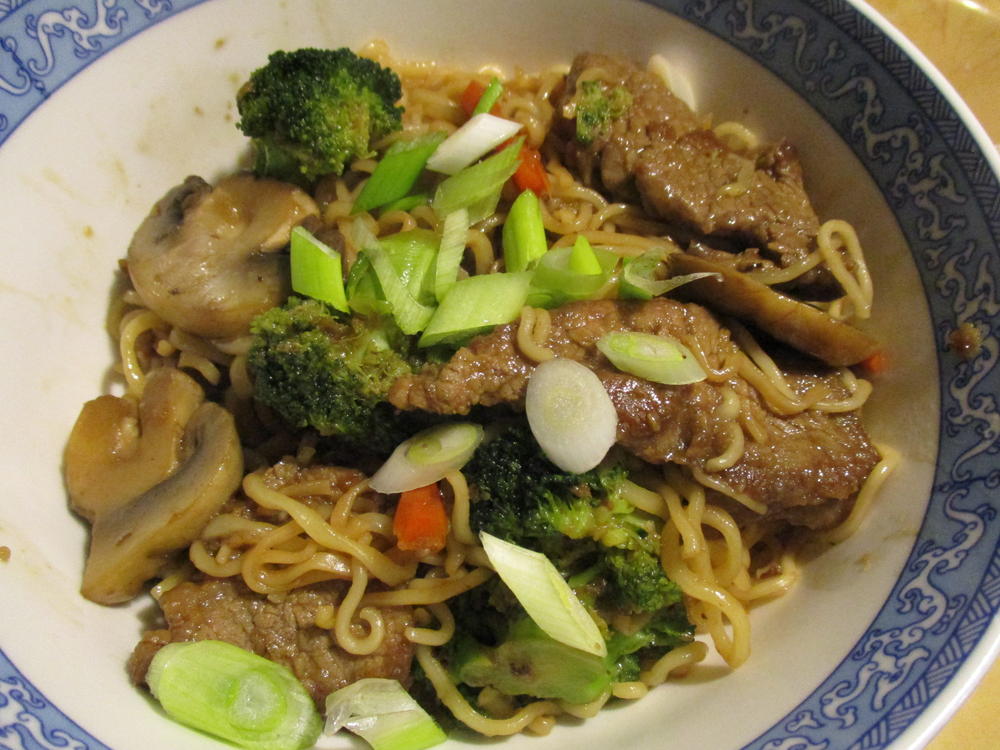 Last edited: