Grill Master
Staff member
Gold Site Supporter
This was WONDERFUL! And my house smelled terrific all this snowbound day!
I adapted it from a recipe I found on the web.
When I realized that I used all my canned beef broth for my French Onion Soup last night, and I couldn't get out to the store today, I used 2 cups of the onion soup instead of the beef broth. I might use canned onion soup next time, since this was so excellent!
Can't wait to make taco salads with it, too!
Lee
P.S. This is the first time I've tried Queso Fresco. Much like a dry ricotta or Farmer's Cheese, only a little saltier. I like it better!
Mexican Beef Tacos
2 chuck steaks (3 1/2 pounds total)
1 14 oz can of beef broth (or a can of French Onion soup)
1 1/2 Tablespoons chili powder
1/2 Tablespoon ground cumin
1/2 Tablespoon onion powder
1 teaspoon garlic powder
1 T. Mexican oregano
1 jalepeno, seeded and minced
1/4 cup cilantro
Juice of 1 Lime
Served with
Warm whole wheat tortilla
Queso fresco cheese
Fresh pico de gallo
Instructions
Spray crock pot with cooking spray.
In a small bowl, whisk together all the dry seasonings. Sprinkle the steaks heavily with with the spice mixture, saving about 1T.
Add the jalapeno, cilantro, and broth (or soup).
Cover with lid, and cook on Low heat 8 to 10 hours, or on High heat 5 to 6 hours. Remove meat from crock pot and transfer to a large bowl or container. Shred meat with two forks
Sprinkle the rest of the spice mixture into the shredded meat, and add a little extra broth from the crockpot, just to moisten.
Serve in warm tortillas with any toppings you like.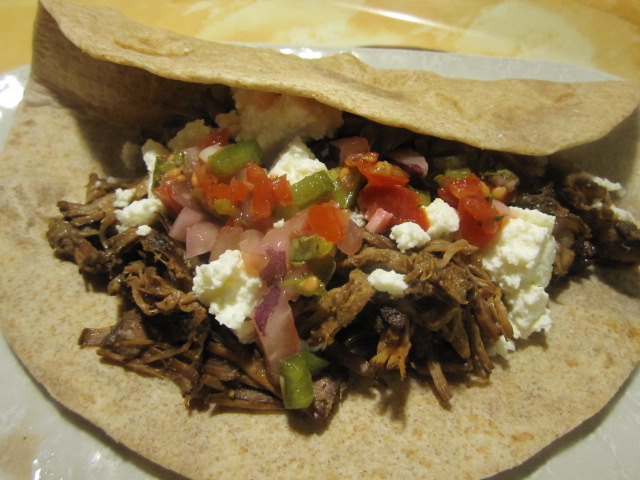 Last edited: