Grill Master
Staff member
Gold Site Supporter
This is a classic New England dish, most seen around Thanksgiving, though some local restaurants serve it all year 'round.
I make it every October. It might be an acquired taste, but I love it!
This year's batch was a lot more "blonde" than brown, for some reason.
Lee
Indian Pudding
1/2 cup yellow cornmeal
4 cups whole milk (hot)
1/2 cup maple syrup
1/4 cup molasses
2 eggs, slightly beaten
2 T. butter, melted
1/3 cup brown sugar, packed
1 teas. salt
3/4 teas. cinnamon
1/2 teas. ginger
1/2 cup whole milk (cold)
1/2 cup raisins (optional)
Preheat oven to 300 degrees.
In the top of a double boiler, slowly stir cornmeal into hot milk. Cook over boiling water, stirring often, 20 minutes or until it thickens.
Lightly grease a 2-quart baking dish.
In a small bowl, combine the rest of the ingredients except for the cold milk. Slowly add a couple of spoonsful of the milk mixture to the egg mixture, tempering it, then add the egg mixture into the milk mixture.
Turn into prepared baking dish. Pour cold milk over the top WITHOUT STIRRING IT IN.
Bake uncovered, 2 hours, or until set but still quivery on top.
Let stand 30 minutes on a rack before serving. Serve with vanilla ice cream or light cream.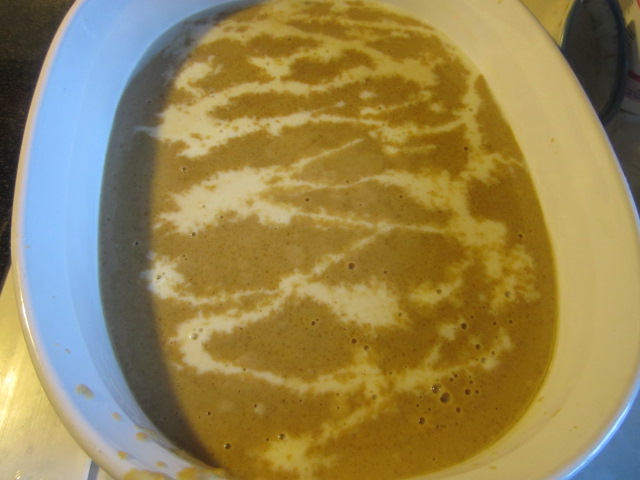 Last edited: