Well-known member
Gold Site Supporter
This dish could go in several categories, so I am putting it here.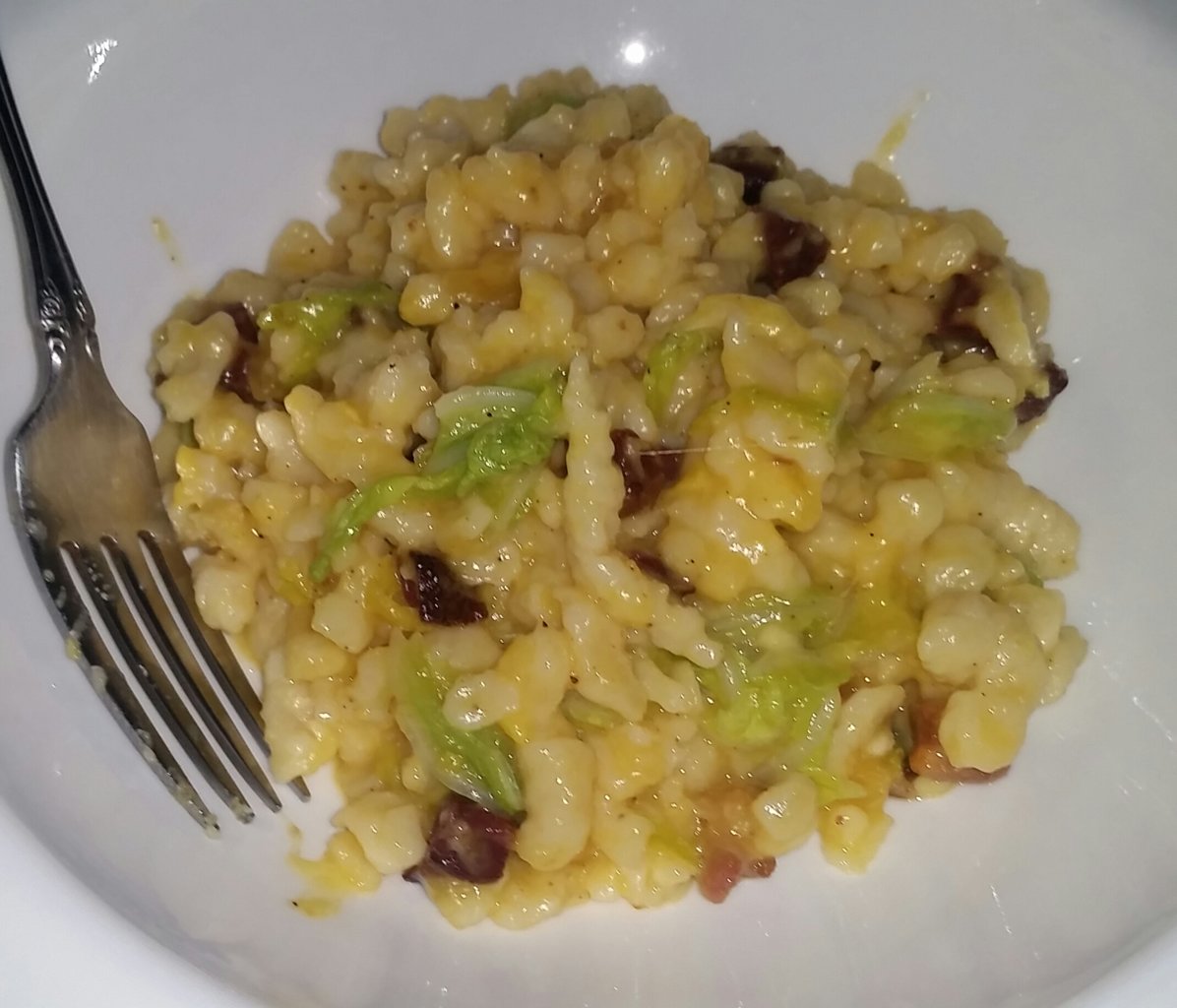 Ingredients
1/2 recipe Spaetzle (see below)
1/4 pound German/Austrian speck, cut into 1/4 inch cubes
2-1/2 to 3 cups Napa (hard stems removed) or Savoy cabbage, cut into 3/4 inch slices
2/3 cup grated Emmenthal cheese (I wanted to use Tilsit, but couldn't find locally)
3 egg yolks
2 whole eggs
Salt and pepper to taste
Directions
Make the spaetzle and set aside.
In a large skillet over medium heat, sautee the Speck until brown and crispy. Add the cabbage and cook until just wilted, adding a little salt and pepper.
Meanwhile, in a large bowl, whisk the eggs until well broken up, stir in the cheese, and a little salt and pepper.
Once the Speck and cabbage are ready, add in the 1/2 recipe of Spaetzle and mix well. Then, turn heat off and pour in the egg/cheese mixture. Stir until well combined and you have a silky mixture coating the Spaetzle. Serve immediately.
Spaetzle
2 eggs
2 Tbsp freshly rendered lard or schmaltz or oil
1/2 cup water
1/2 cup milk
2 1/2 cups all purpose flour
2 1/2 tsp salt
1/4 tsp baking powder
1/8 tsp freshly grated nutmeg (optional)
Equipment needed: Spaetzle maker of some kind or a colander with large round holes
Mix the eggs, lard/schmaltz/oil, water and milk with an electric mixer or whisk. Stir the flour together with 1/2 tsp of the salt, the baking powder, and nutmeg if using in a dry bowl. Blend this mixture into the liquid. Mix well and set aside for a moment.
Bring 4 quarts of water to a boil and add 2 tsp of salt. Using a spaetzle maker or press squeeze the dough into the boiling water. Use about 1/3 of the dough for each batch. Cook for 2-3 minutes until dumplings float to the surface and puff slightly. Remove them with a slotted spoon and place in a colander.
These can be served with a gravy of some sort, sauteed in butter with some fresh sage or other herb, sauteed in just browned butter, used to make Kasespaetzle (essentially German mac and cheese), used in soups, etc.
NOTE: If you are using a colander to make the spaetzle, you will need something to push the dough through like a large spoon or a scraper.